Friends and Links
Good friend Bill Thomas was the owner of Rosebud Tattoo in Saco and Sanford. He has since retired. Bill is responsible for 9 of my tattoos. His also an avid motorcyclist and the technical advisor on the Bikers are Animals children's books.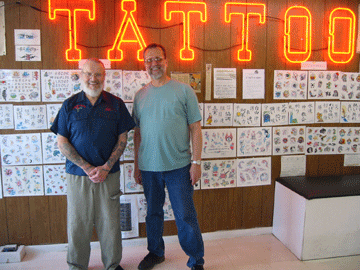 LAH photo
Tattooist Bill Thomas and Cartoonist Paul 'PJ' Jamiol at Rosebud Tattoo in his Saco, ME shop.
Bill has passed on and is really missed by both Paul and Linda
---

Really great MC leathers
---
Shinya Kimura of Chabott Engineering
Really cool motorcycles by bike builder/artist Shinya Kimura. He is my favorite bike builder...and a true talent.


Photo by Ayu
Bike builder/artist Shinya Kimura and Cartoonist Paul 'PJ' Jamiol at Chabott Engineering, Azusa, CA.
---
Favorite blogs
TheZoo was created by a group of friends from ThinkProgress, who decided to get together and create a blog...a great bunch of people with something intelligent to say. Their posts are insightful and will leave you with a sense that you've come away smarter than you went in.
Thoughts on the Middle East, History, and Religion by Juan Cole, President of the Global American Institute. Professor Cole is the definitive statement on the Middle East. There is none better.
Shinya Kimura is a bike builder/artist extraordinaire. For those who don't follow the whole custom bike scene, Shinya's work resides at the very top of the heap. He is Japanese born and founded Zero Engineering in Japan. He and his partner Ayu now work out of his shop, Chabott Engineering, in Azusa, CA. He is the very best.
---
Four really cool children's books on cool critters riding motorcycles!

Any one of these books make a really great gift for all kids! You can buy these unique children's books now at: bikersareanimals.com, Amazon.com or Barnes&Noble.com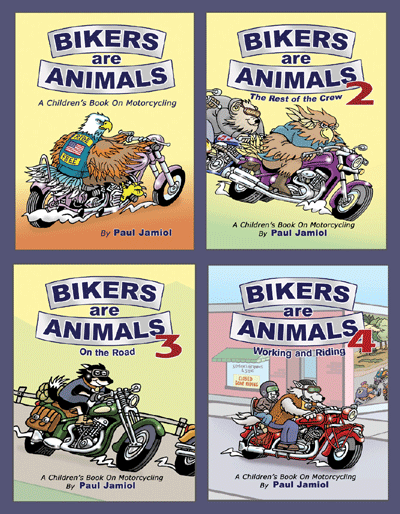 For information on signed copies, click here
---
To send Paul Jamiol a Message